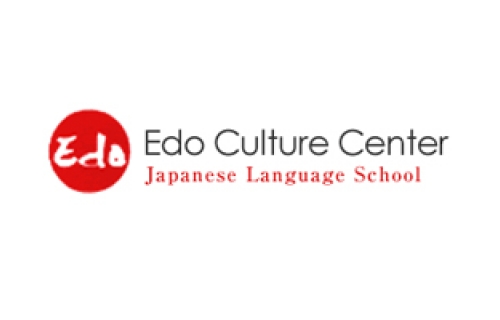 What is Edo Cultural Center?
Edo Cultural Center was founded in 1984. Since then, more than 10,000 students from over 70 countries have completed our courses and contributed to the international atmosphere of Japanese language school. The world is changing rapidly; communication ability between people becomes a very important measure. Edo Cultural Center is not only teaching Japanese language but also providing a place for meaningful cultural exchange to our students.
Meaning of Edo Cultural Center
Japan's current social infrastructure started to take shape during Edo era when "Genroku", a magnificent and dazzling aspect of Japan's culture was at its zenith. Today Japanese people are often described the current cultures, traditional customs, arts and fundamental social characteristics began to take root during Edo era. We therefore named the school "Edo Cultural Center" with the hope that many would acquire a deeper understanding between "language" and "culture" of Japanese people, who are generally regarded as being mysterious and often incomprehensible in the eyes of non-Japanese.
Infallible Career Guidance System:
Edo Cultural Center is a group member as a Japanese language school of ICHISHIN Holdings Co.Ltd, which providing multifarious education services. Besides teaching Japanese language, the center also giving advice based on students' wishes and goals, which will assist them to a brightly distant future. To ensure students can pass open test assembly such as "Japanese Language Proficiency Test" and "Examination for Japanese University Admission for International Students", supplementary lectures will be held during or after school. Students who aim to enter graduate schools, special lessons were established to enhance and reinforce the "transmission capacity" of your presentation and debate skills.
Flexibility Learning System:
The center used the most effective teaching methods to help our students to understand and learn Japanese language. Students are divides into different classes according to their proficiency level. In addition to make sure students are receiving appropriate level of Japanese education, "level check" occurs every three months aimed at reconsidering the curriculum, teaching materials and assignment. Other subjects excluding Japanese language, students can study by themselves through the "ICHISHIN Wing Net". Guidance for interview tests and how to write a short essay are available at anytime.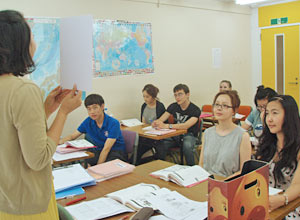 Reliable W Class Teachers System:
W class teachers system provides experienced teaching staff for supporting the Japanese language learning and career guidance. Also "Mendomi System" is helping students' overall live in Japan, for example, finding part-time job and housing problems. Furthermore, we have full-time staff who understand Chinese, Korean and English in case our students need further assistance in their first language.
Targeting on Over 90% Attendance:
Students being late or absence for school easily not only hindrance their motivation of learning but also connecting to the disorder of their daily life. We strongly believe in positive and good lifestyle is very important even though living in a foreign country. Therefore, students' attendance will be supervised thoroughly. For those students who have perfect attendance will be given a prize in every three months.
Fulfilling Activities:
Edo cultural Center is located in Akasaka, the heart of forefront information area in Tokyo. Today Japanese people are often described the current cultures, traditional customs, arts and fundamental social characteristics began to take root during Edo era. Our school named "Edo", we hope that passing through the lessons, extracurricular activities and splendid learning environment would acquire a deeper understanding of "past" and "now" faces of Japan to our students.